| | |
| --- | --- |
| Product Type: | BB Wall travelling jib crane |
| Lifting Capacity: | 0.5~10 ton |
| Span: | – |
| Lifting Height: | 3m~10m |
| Working Class: | A3 |
| Ambient Temperature: | -20~40℃ |
| | |
Wall travelling jib crane of Yuantai enable you to handle material hoisting in large area with NO footing / floor space. Wall travelling crane for sale.  The wall traveling jib crane is a light-duty jib hoisting equipment that has grown in popularity in recent years. This wall traveling jib crane performs superbly in short-distance and intensive material handling. The main parts and components of the wall travelling cranes are included but not limited to electric hoist, swing arm, driving mechanism, and end beams are the essential components.
Wall traveling jib cranes are commonly used in warehouses, workshops, and assembly lines, among other places.
The motorized hoist or lifting mechanism runs along the underparts of the crane cantilever, allowing the wall travelling jib crane to lift and move objects in a broad three-dimensional space.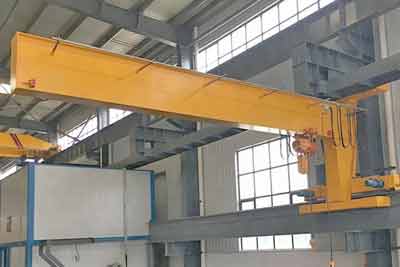 Cantilever wall travelling jib crane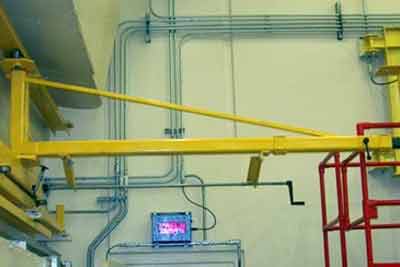 Tie Rod wall travelling jib crane
The wall travelling jib crane is a low-cost crane that travels along a rails, mounted on a wall or other supported structure on an elevated orbit of a multilayer assembly shop, maximizing working area. The lifting equipment on a wall travelling jib crane may enable extended lateral movement of materials while also lifting them in the vertical direction. The wall travelling jib crane has a lifting capacity of 0.5 to 10 tons and an operating class of A3.
The wall travelling jib crane is an ideal material handling option for workshops that manufacture and assemble machines, among other places. It can also be utilized as a supplement to an overhead crane system for more effective material handling. For handling products at a workstation, a wall travelling jib crane is a viable option.
Advantages of wall traveling cranes
Increase the transport range. It can move items in three directions, extending the transport range and maximizing plant space.
Money and space savings. It helps to save space due to its scientific structure. Furthermore, it takes up less space, resulting in cost savings.
High productivity. It is appropriate for short distances and frequent tasks, resulting in increased efficiency.
It is inexpensive and secure. Yuantai Better Crane offers a competitive pricing and high-quality product.
Ideal for plant and factory with low ceilings. Meet your small and constrained space requirements.
Steel of superior quality. All wall jib cranes made by Yuantai Better Crane are made of high-quality steel. Which guarantees you years of trouble-free service.
Applications of wall travelling jib cranes
For material handling, wall travelling jib cranes move longitudinally along the track. An electric chain hoist or an electric wire rope jib hoist travels along an I-beam while transporting items up and down vertically.
Wall traveling jib cranes can be used in any situation to transport light loads up to 5 tons.
Based on your requirements, we may provide a non-standard wall traveling crane.
Factory, warehouse, store, logistic, dock, port, freight yard, construction building, mine, and so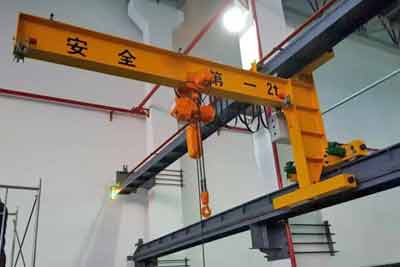 Cantilever wall travelling jib crane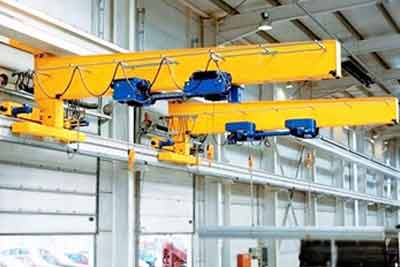 Wall Rail Travelling Jib Crane
Tie Rod wall travelling jib crane
Tie Rod wall travelling jib crane
Features of wall travelling jib cranes
Bolt connection installation with high strength;
Operationally convenient, safe, and adaptable;
Low noise, spacious cabin, and attractive appearance;
High quality and efficiency at a reasonable cost;
Whole structure is reasonable and simple, self-weight is light, and it meets state norms.
Low-cost handling methods do not necessitate structural changes to the building.
Why choose wall traveling jib crane?
The wall travelling jib crane is typically employed as a supplement to overhead traveling cranes for material handling. It allows for smooth material movement at all levels of the workshop. Wire rope hoists with low headroom or chain hoists series are available. The control mode is either button control or remote radio control. Wall-traveling jib cranes are frequently employed in manufacturing halls, intensive assembly lines, warehouses, and other industrial areas.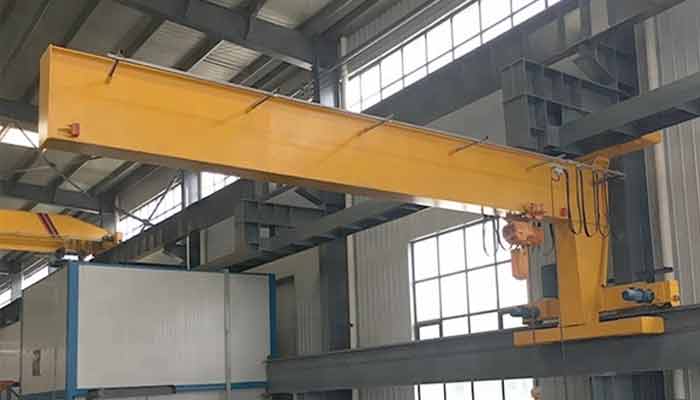 I beam cantilever wall travelling jib crane with electric chain hoist
How to use wall travelling jib crane safely?
The majority of gantry crane, overhead travelling crane, jib crane, and hoist-related mishaps happen during the lifting process. Accidents can have major repercussions, and they can even be fatal. Accidents during lifting activities can be considerably reduced by employing the proper approach and equipment.
Check for oil leaking and strange vibrations or sounds in the wall travelling crane.
Make sure the hoist and other motion indicators on the pendant control are in good working order.
Conform to the markings on the control device. Always become familiar with the controls, as pendant controls can vary from the other types.
Check all hoist limit switches, travel limit switches, and indicating devices for proper operation. Any or all of the following types of indicators may be installed on a wall travelling crane:
Indicator of load;
Working space constraint;
Collision avoidance gadget
Indicator of crane action (Audible and visual).
Check to see that the hook block is in good functioning order.
Check to see if the safety latch can spring back.
There should be no unauthorized alterations to the hook.