PATENT RIGHT IN INDIA
                                                                                                     BY SHRISHTI MISHRA
Patent Office in India
The Indian Patent Office is administered by the Office of the Controller General of Patents, Designs & Trade Marks (CGPDTM), a subordinate office of the Government of India which reports to the Department of Industrial Policy and Promotion (DIPP) under the Ministry of Commerce and Industry which administers the Patent Office, Design Registry, Trademark Registry, Geographical Indication Registry, Patent Information System and Rajiv Gandhi Institute of Intellectual Property Management.
Indian Patent Office has four offices defined by areas of jurisdiction i.e. Delhi, Mumbai, Chennai including its headquarters in Kolkata. With the introduction of office automation and online processing of patent applications functioning of the patent office has become transparent and uniform. Now latest and complete information is available online to the public on published patent applications including information related to publication, examination reports, the status of the application, amendments, grant, opposition, renewal, and decisions of controllers as well as the legal status of patents in the form of electronic Patent Register.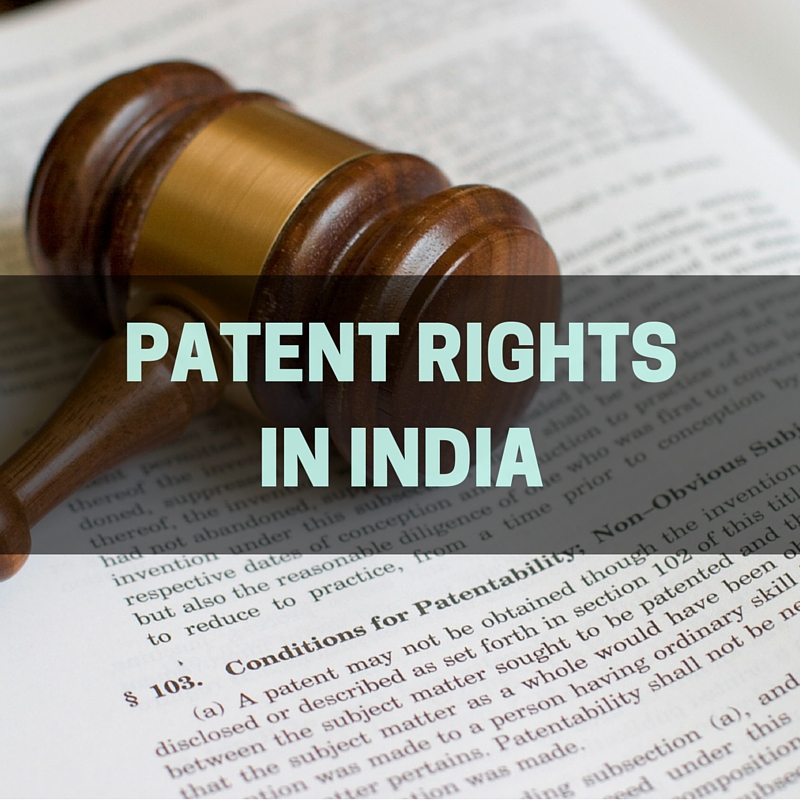 Patent Application in India
A patent application is a multi-stage process involving the electronic filing of an application, processing, screening and classification, publication, examination, hearing if required, pre-grant opposition, and grant/refusal. Indian Patent Office grants a patent for 20 years subject to payment of renewal fees as patents are to be annually renewed. Indian Patent Office handles cases related not only to patent applications but also renewals, patent infringement, and other related litigations. Indian Patent Office also processes foreign patent applications along with local ones. India Patent Office grants patents so that any invention can be freely commercialized or utilized without any fear of infringement. All changes affecting patent rights should always be recorded in the Indian Patent Office.
The Indian Patent Office grants patents that are governed by the Indian Patents Act, 1970. The Act was amended in the 2000s bringing a major change of complying with the Agreement on Trade-Related Aspects of Intellectual Property Rights (TRIPS). India's patent law also prevents evergreening, a strategy used by pharma companies to tweak their patented product or process to attain new patents to gain a monopoly. To address this issue the Patent Act 1970 was amended by the Indian Parliament introducing Saection3(d) by way of the 20005 Amendment to the Act. By introducing a law in 2015 IPR cases are now resolved faster in India as it has brought them under the ambit of commercial courts.
A patent can be applied for in multiple countries for the same technology by the inventors on the basis of its commercial potential. By filing a Patent Cooperation Treaty application one can secure a patent and get simultaneous protection in over 150 countries. It gives inventors 30 months to file for in countries of their choice.
The quality of the patent and its commercial potential is also as important as the patent itself. For any patent to be successful two things are required which are mainly research and funding. For India to become more inventive and the Indian companies to have successfully commercialized utilization of its innovations, they should focus primarily on generating more patents and also invest more in research and development (R&D).
Standard Essential Patents
The analysis of granted patents in India can assist in determining some patents that may be classified as standard essential patents. The world has witnessed the convergence of everyday life with technology that improves its quality in multiple aspects. Inter-operability of technology and adoption of Common Standards is a significant catalyst in this convergence and in its process, multiple common standards emerge. Patents and standards fulfill the common motive, of promising innovation and technology. These standards remain common for numerous technologies as they shape the basis of their fundamental structure and therefore must be accessible to everyone on fair terms. However, with Patent protection, a creation is protected entirely and alongside that, any precepts used in its creation are also patented in this protection. This is where the Standard Essential Patent (SEP) comes to play. SEPs cover technologies that must be utilized to conform to a particular standard. In other words, a patent that safeguards a technology that distinguishes the standards to be pursued by different inventions of that field is called Standard Essential Patent (SEP).