Wall mounted jib crane, 1.5 ton, 180 Rotating, Pendent Control, for sale Australia, economical price, good buy from China. Check wall jib crane specs.
Project info of 1.5 ton overhead crane & hoist for sale Australia
Brand :Yuantai Crane
Types of Cranes:Wall mounted jib crane
Date of Placing Order: 2021-03-08
Date of delivery : 2021.3.30
Transportation :By sea , 20 GP containers
Payment: 100% TT
Destination port:CIF Darwin Port
Destination country:Australia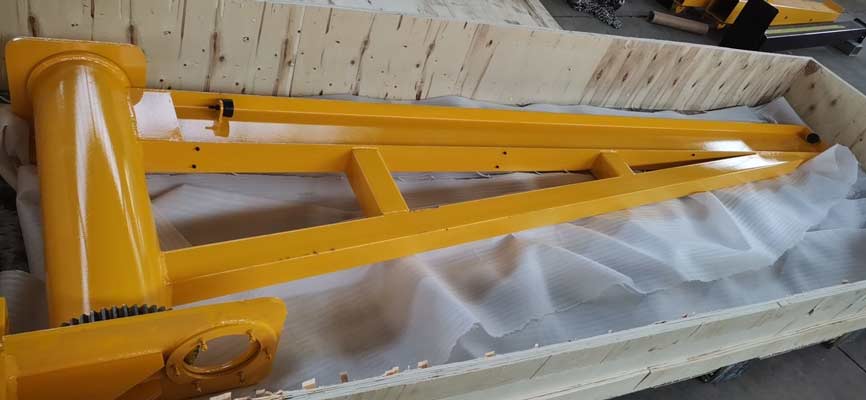 Wall mounted jib crane for sale Australia
Main Specifications of 1.5 ton overhead wall mounted jib crane Australia
| | |
| --- | --- |
| Quantity | 1 set |
| Product Name | Wall mounted jib cranes |
| Crane Model | BX |
| Lifting capacity | 1.5 ton |
| Crane span | 4 m |
| Lifting height | 6 m |
| Working class | A4 |
| Power supply | 415V,50HZ,3P |
| Crane control | Ground control |
| Color | Standards |
| Application | Indoor use |
Customized features of 1.5 wall mounted jib crane
1. Equipped with electric chain hoist, single chain single speed, lifting speed 6.6m/min, running speed 11m/min;
2. The total boom length of the cantilever is 4M (plus the mounting plate part, 4M is required from the surface of the column to the end of the boom) The length is produced according to the drawing below:
3. The degree of cantilever jib rotation is 180°;
4. The size of the column at the customer site is: 300mm (length) x 170mm (width) x 10mm (steel plate thickness);
5, a certificate of origin is required;
Customs declaration & registration information
The actual Chinese and English name of the goods:Wall mounted jib crane
Chinese and English name of cargo declaration:Wall mounted jib crane
Inland transportation cost from factory to port: RMB1800
Customs declaration fee: RMB3200
Sea freight: USD 1,100
Wall Mounted Jib CranesRotate, lift, and manipulate loads up to 5 tons
Wall Mounted Jib Crane design offers a flexible and affordable solutions to your crane demands where sufficient headroom and structural support are lacking. Rotate, lift, and handle loads with jib capacity up to 5 tons. View our selection of wall-mounted jib cranes.
Building supports serve as an anchor point and a weight balancer.( Occasionally, it is also can be mounted on a supporting columns.
Can be positioned closer to the ceiling than the majority of other wall mount jib crane types.
Great material handling versatility due to the boom's 200-degree rotation along a wall or next to a column
Details on Wall Mounted Jib Cranes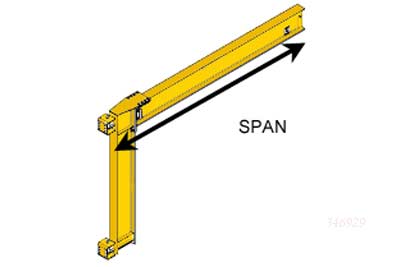 Span: The distance from the pivot point to the end of the cantilever. Longer spans will be sent in two sections for shipping considerations and will feature welded stiffener plates with bolt-on connectors.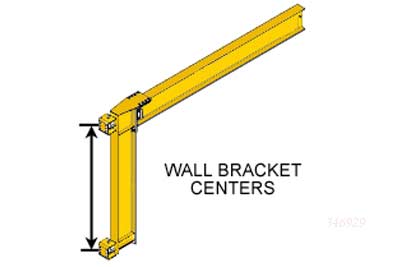 Wall Bracket Centers: The distance between the center point of the top and bottom wall brackets, where the wall jib crane mounted on the walls. This is the minimum clear space needed to install a wall mounted jib crane to a building support structure.
Cantilever designs:
The Full Cantilevered Wall Mount, the Overbraced Tie Rod Wall Mount, and the Telescoping Boom Wall Mount are the three cantilever designs available for wall mounted jib cranes.
Overbraced Tie Rod Wall Mount Cranes offer 180° manual rotation and cost-effective hook coverage, with a 3 ton maximum capacity
Telescoping Cantilever Wall Mounted cranes can be easily retracted with extended boom reaches up to 16′ available. Customized based on your needs.
This full cantilever wall mount jib crane is ideal when maximum head room is needed for your lifting application. The cantilever has 180 degrees of manual rotation. With capacity up to 5 ton. Customized design is available.